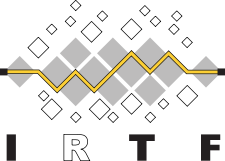 At the latest IEFT (Internet Engineering Task Force) meeting 86 in Orlando Florida I participated in what will hopefully become an established IRTF (Internet Research Task Force) Research Group on Network Coding (nwcrg).
The IETF is the organization responsible for many of the standards used on the Internet today (commonly known as RFCs). Where the IETF develops the protocols used on the Internet today, the IRTF on the other hand focuses on more long term research into technology related to the future development of Internet protocols.
At the IRTF meeting I presented the Kodo Network Coding library as a tool which could be used by the nwcrg for research on network coding algorithms and development of network coding based systems. You can find my slides  here.
If you are interested in the development of network coding based protocols and systems, join the mailing list and participate in the discussions. Find more information at the  nwcrg homepage.